GALE Pacific Launches New Innovations at Advanced Textiles Expo 2023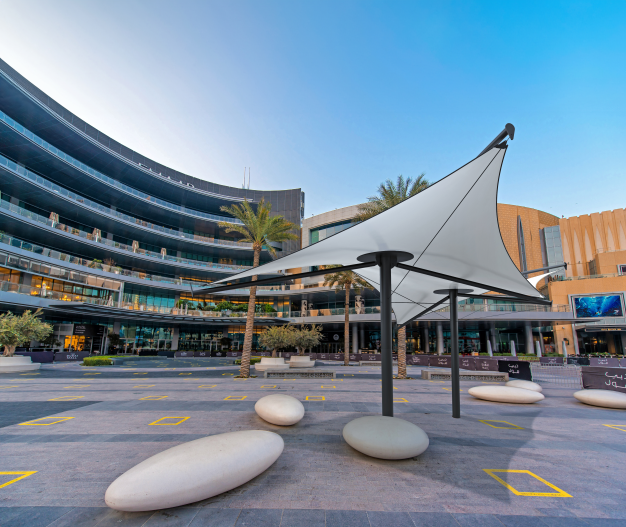 Introducing game-changing performance fabrics with PVC-free, waterproof, coated fabrics with 100% closed loop recycling capabilities
Charlotte, NC – GALE Pacific Commercial Fabrics (GALE Commercial), a leading innovator of large-scale outdoor performance fabrics is thrilled to announce its participation at Advanced Textiles Expo 2023, from November 1st – 3rd at the Orange County Convention Center in Orlando, FL. The brand will showcase cutting- edge fabrics, created to combine functional design with rugged performance.

With a commitment to pushing the boundaries of commercial textiles, GALE Commercial is excited to introduce its new sustainable coated fabrics aimed to help customers meet project requirements while surpassing their sustainability goals. AT Expo 2023 will see GALE Commercial's revolutionary PVC-free materials such as Ecobanner™, the printable fabric revolutionizing outside branding and signage with its 100% closed-loop recycling capabilities, as well as Apex, the waterproof solution designed to cover entertainment and hospitality settings.

This year's GALE Pacific booth will also feature a hands-on demonstration of HeatShield. This game- changing fabric technology features treated yarns which results in the fabric surface feeling up to 15°F cooler and is ideal for offering heat protection over family areas, children's playgrounds, and auto lots.

Chris Gibson, GALE Pacific Americas General Manager and Vice President of Global Innovation, expressed enthusiasm about the upcoming trade show, stating, "Participating in Advanced Textiles Expo provides us with a unique platform to engage with industry leaders, partners, and customers. We are eager to showcase our latest innovations in sustainable coated fabrics, provide a hands-on experience with our HeatShield technology, as well as celebrate 25 years of Commercial NinetyFive with a fresh update in colors and warranty of the most trusted HDPE fabric in the market. GALE Pacific continues to lead the way with world-class fabric technology and delivering state-of-the-art solutions."

Key highlights of GALE Commercial at Advanced Textiles Expo 2023 include:
1. Product Introductions: Ecobanner, the sustainable, printable fabric changing outdoor branding will be on show in the Americas for the first time. In addition, there will be live demonstrations to experience the cooler feel of fabrics infused with HeatShield technology.
2. Live Hands-On Demonstrations: Feel firsthand the cooling difference of fabrics with HeatShield technology. GALE Commercial's team of experts will provide insights and show customers how they can incorporate HeatShield fabrics into their portfolios.
3. Industry Education and Insights: Join GALE Pacific's Global Director of R&D, Andrew Nasarczyk, as he hosts a campfire session to discuss how replacing PVC products with recyclable alternatives can reduce operational costs and complexity.
Discover the future of fabrics with GALE Pacific Commercial Fabrics at Booth #2327 during Advanced Textiles Expo. For more information visit galecommercial.com/atexpo