Case Study: Commercial Heavy 430 at Gumbuya World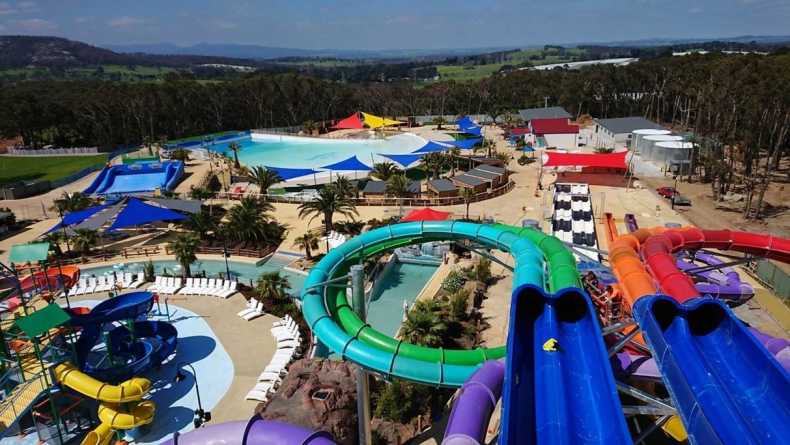 Melbourne's brand-new theme park, Gumbuya World is host to a range of fun filled activities which have been protected using Commercial Heavy 430 architectural shade fabric by Gale Pacific.
The Project:
Project Size: 1230 SQM
Project Completed: Oct 2019
Colours:

6 sails in Aquatic Blue & Steel Grey
8 sails in Aquatic Blue surrounding wave pool area
2 sails in Red & Yellow at rear of complex
1 sail in Red at "The Racer" waterslide feature
Design & Installation: Mark Davies, Sundance Shade.

Sail Fabrication: Tracy Jardim, Selby's Canvas and Shade.
https://selbyscanvasandshade.com.au/
Being redesigned into one of Victoria's premier family fun destinations, Gumbuya World is Melbourne's only water, wildlife and theme park located just 50 minutes outside of the CBD. Upon arrival, customers are invited to discover four truly unique worlds each with their own rides and attractions which range from epic water slides to Australian wildlife encounters.
To compliment the endless outdoor fun, Gumbuya World have specified a variety of shade structures using Commercial Heavy 430 architectural fabric by Gale Pacific. The addition of these shaded areas provides patrons with plenty of coverage to seek refuge from the uncompromising southern sun.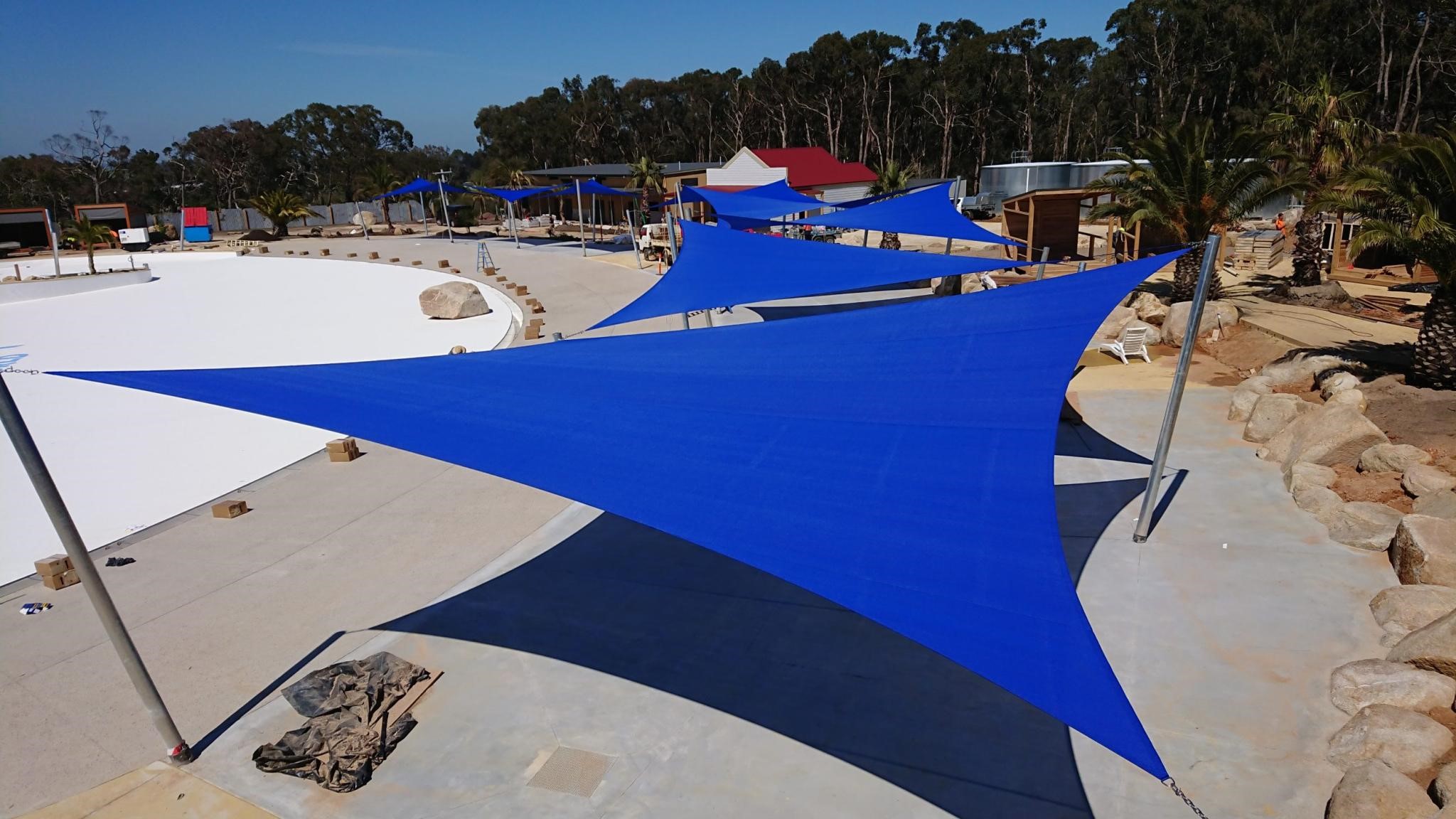 Mark Davies of Sundance Shade is responsible for the design and installation of the structures with Tracy Jardim of Selby's Canvas and Shade completing the fabrication. A total of 1230 SQM has been installed across the project in 6 stages, with the first being completed in November 2018.
Each arrangement was fitted with at least one bright red, yellow or blue sail that contributes toward the 'primary colour' theme of the park's other attractions. The ability to choose from 16 popular colours in the Commercial Heavy 430 range made it easier than ever to complement the existing design elements and colour schemes required for Gumbuya World.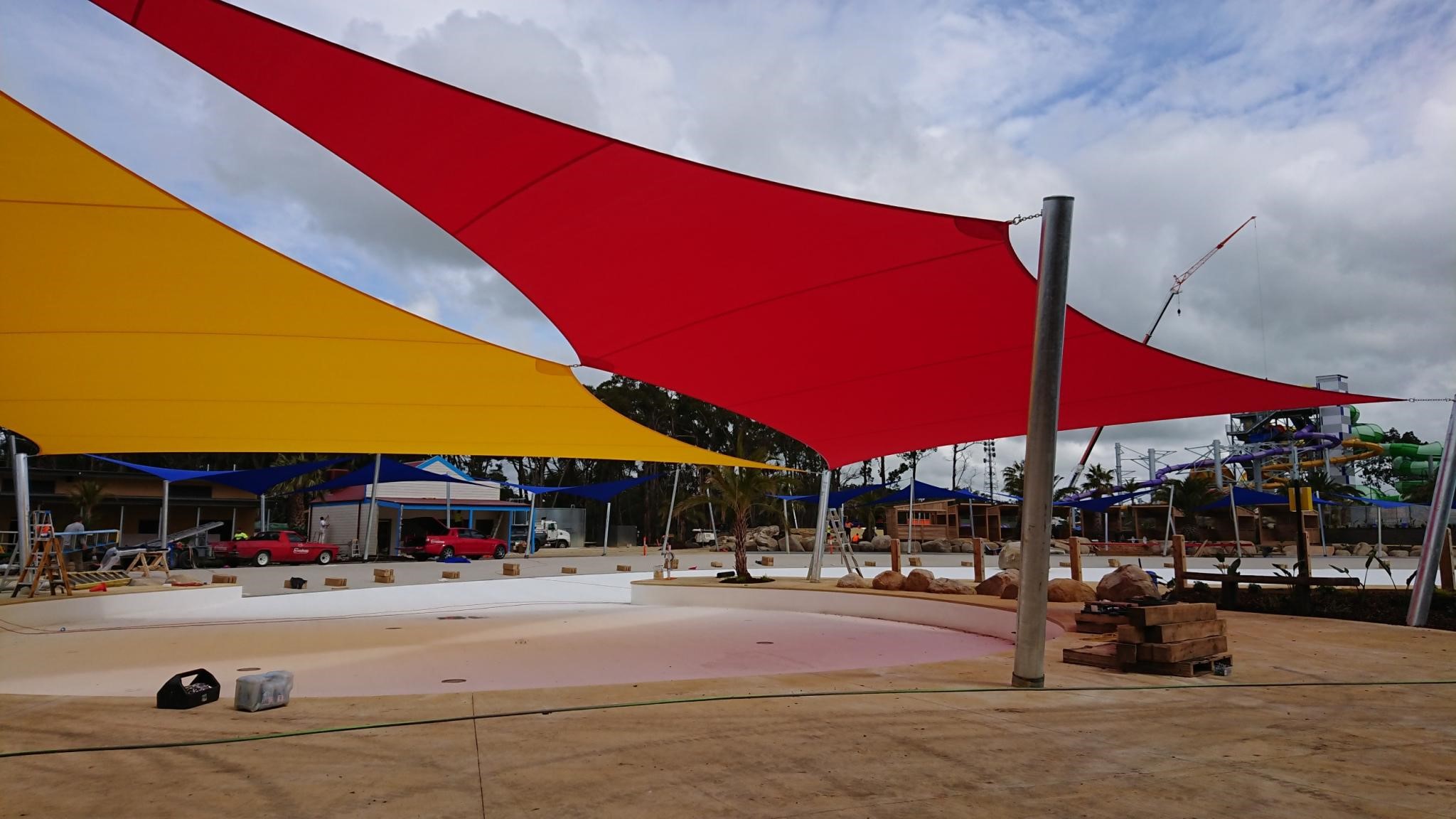 Like many theme parks around Australia, Gumbuya World is open 7 days a week and is host to many people all year around, therefore the opportunity to repair or maintain shade sails exposed to harsh weather conditions is extremely limited. It was imperative for the appeal of Gumbuya World that the sail material chosen for the project was able to perform under the toughest environments and maintain its aesthetic properties. Fortunately, the benefits of using Commercial Heavy 430 become clearer over time. Using a patented intertwining knit pattern and made from 100% round monofilament yarn the Commercial Heavy 430 range features superior biaxial strength and load bearing performance which helps the material withstand extreme weather conditions on large scale tension structures.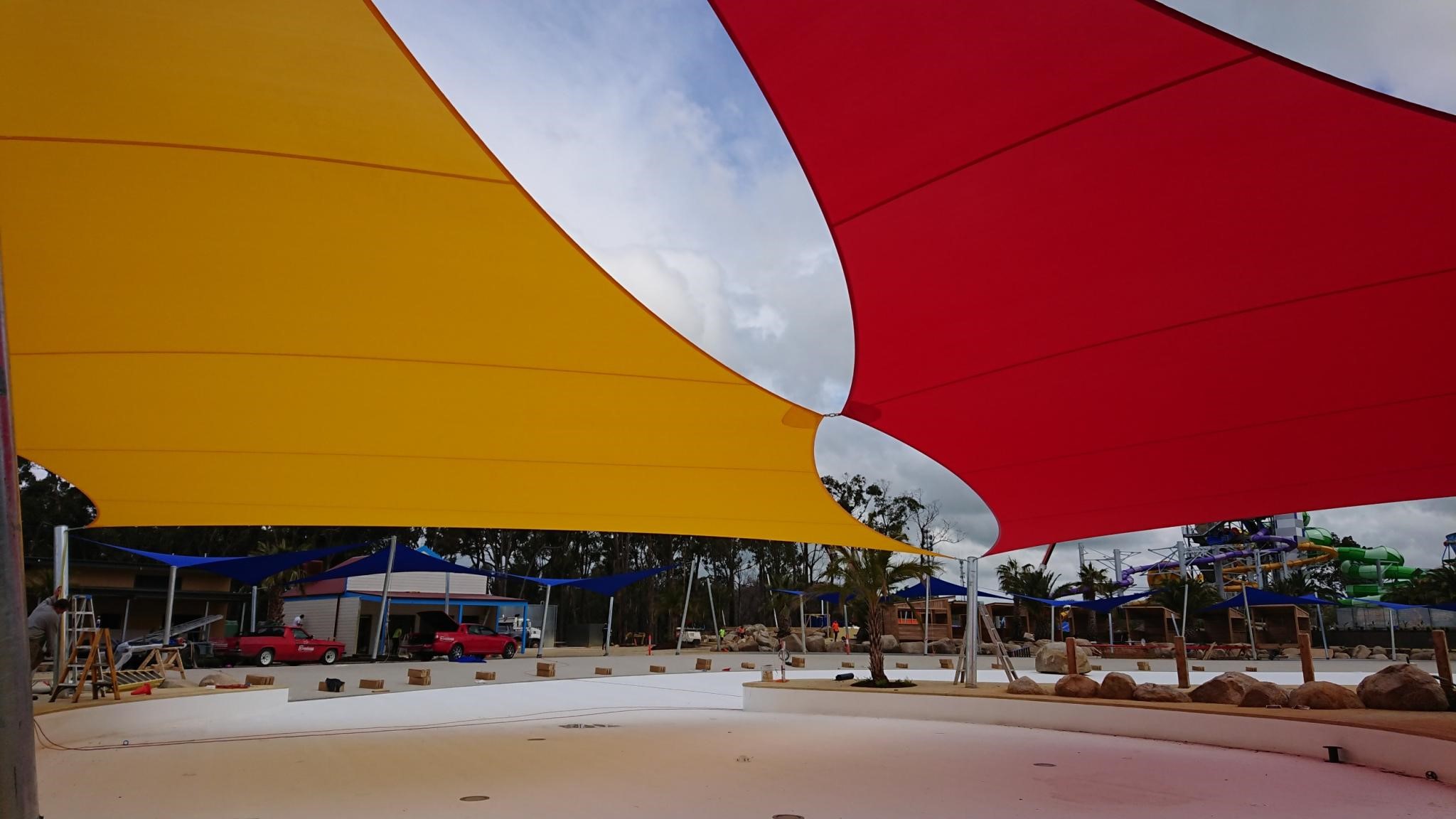 Mark Davies from Sundance Shade complimented the design of the fabric, stating that when tensioning each structure, the warp & weft directions are very equal. Ultimately, this results in a shade membrane that is more forgiving, taking the load more evenly in both directions. These features coupled with up to 87.9% UV block and a 15-year UV-degradation warranty made Commercial Heavy 430 a stand out product when specifying for Gumbuya World.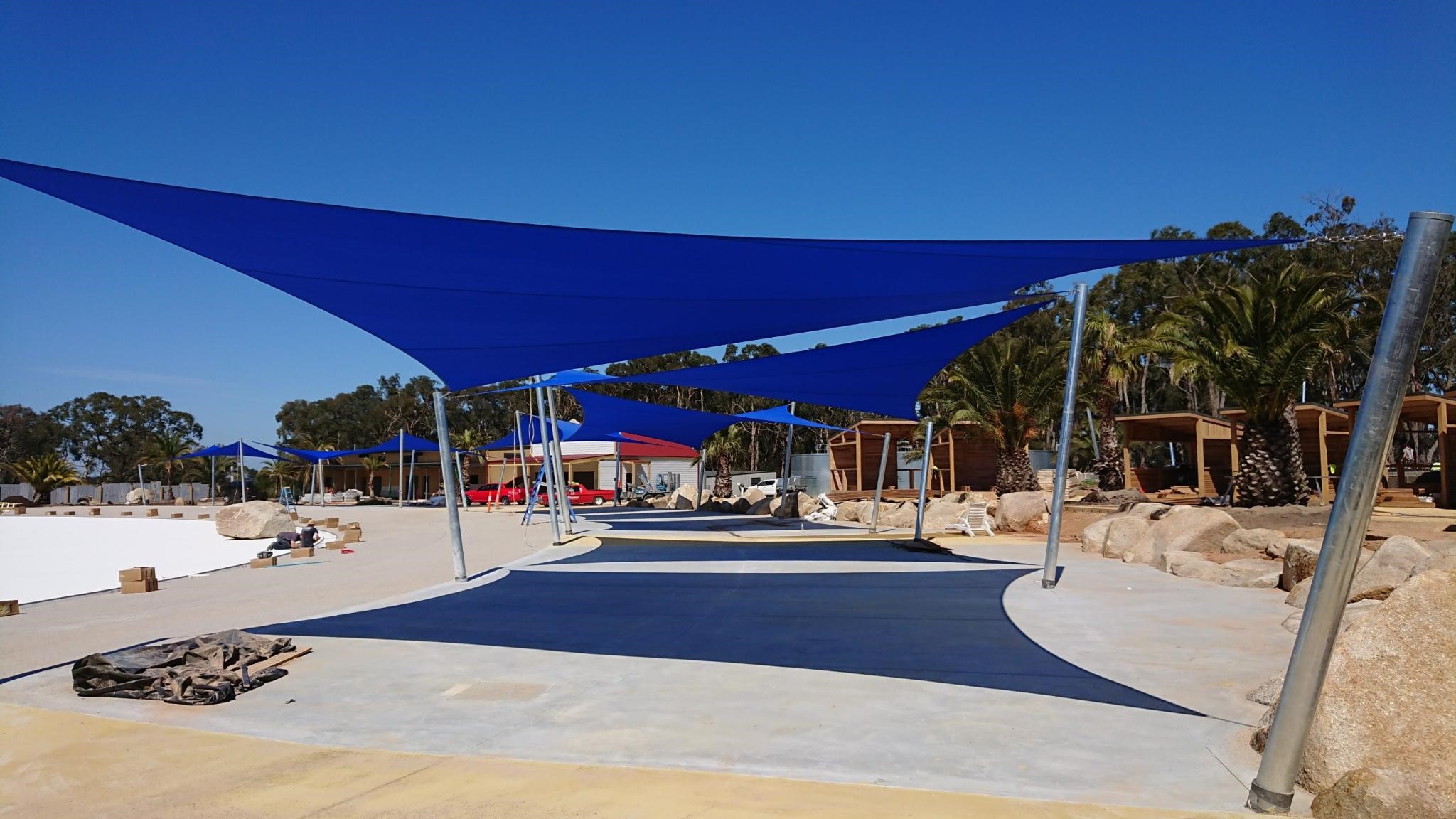 In addition to the Gumbuya World installation, Mark mentions that he does not restrict the use of Commercial Heavy 430 to large span structures and is happy to utilise the material in smaller domestic structures owing to its superior tensile properties and quality. Previously, Mark has completed projects in Commercial Heavy 430 on sails up to 400sqm in size.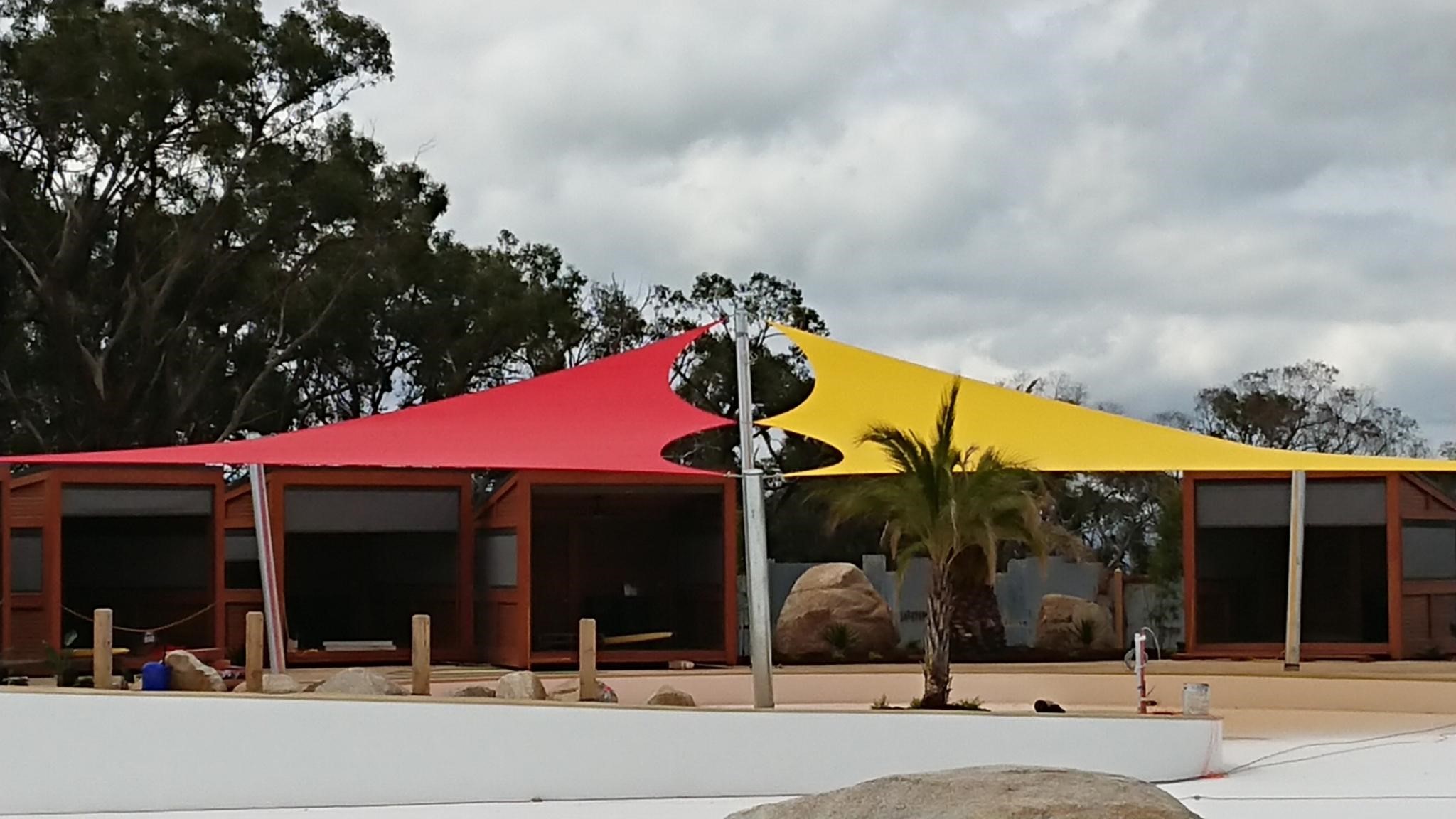 Images above provided by Tracy Jardim (Selby's Canvas and Shade) & Mark Davies (Sundance Shade).
Tracy Jardim of Selby's Canvas and Shade commented that in relation to the sails for Gumbuya World, Commercial Heavy 430 was "nice to work with" and performed "supplely" throughout their sewing and fabrication process. Tracy states that in conjunction with the brilliant design work of Mark at Sundance Shade, they encountered no major challenges that hindered the project timeline or effectiveness.
Overall, both Mark and Tracy were completely satisfied with the outcome of the project and have expressed their commitment to using Commercial Heavy 430 in their future projects.
In addition to the work completed at Gumbuya World, Mark and Tracy's other work using Commercial Heavy 430 can be seen below at the Lawson Poole Reserve in Cranbourne, Victoria.