Commercial Heavy 430 at Canberra Airport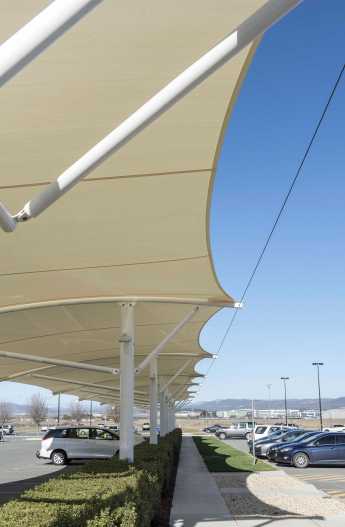 Commercial Heavy 430 is the latest addition to GALE Pacific's architectural shade fabric range, and is showcased at Canberra Airport in Australia's Capital Territory.
Project size and span.
The large-scale, lightweight tension structure was installed for vehicle protection at Canberra Airport, in Australia's Capital Territory. The project, completed by Greenline used the existing structure to replace the old shade fabric with GALE Pacific's Commercial Heavy 430.
The total project consisted of approximately 2,260 square meters of shade fabric for five sails. A structure of this scale requires a fabric of superior dimensional stability – making Commercial Heavy an ideal choice due to its biaxial strength and load bearing performance in large span structures.
Commercial Heavy 430 in action.
Commercial Heavy 430 is a well-balanced fabric, with its unique properties preventing sagging and a need for constant re-tensioning. Commercial Heavy 430 combats the common downfall seen with many other shade fabrics. When used in large scale structures, other fabrics exhibit unbalanced load bearing characteristics across the warp and weft directions, where Commercial Heavy 430 does not.
For maintenance and longevity, having the most dimensionally stable fabric on the market is a winner. Gerry from Greenline explains:
"As we often tell customers, they cannot rely on cover factors alone when making their decision. Mapping the shadows at times of the day, and ensuring the design of the structure covers the areas it needs to at the right times is equally important. Sun safety is so broad and needs a balanced approach."
Commercial Heavy 430 is one of the highest rated shade fabrics for UV cover (up to 94.9% cover factor), and achieves a balance between warp and weft. Commercial Heavy 430 is available in 13 colours, with each colour in the range being engineered to meet a market leading minimum UVR block of 90 percent. The Canberra Airport project required fabric in the colour 'natural', a popular choice (alongside 'Desert Sand & Charcoal') for clients using a heavy fabric.
The project results.
Upon completion of the project, both the fabricator and installer were confident with the overall result. The new fabric gave life to some of the older structures in the airport, and handled well during installation.
Greenline chose Commercial Heavy 430 due to its balanced properties and ability to cater for large spanning projects, with Gerry stating:
"It's a good thing there is now real competition [on the market], with some very impressive test results. With the research that has gone into the development of this fabric, I think Gale has a competitive edge!"
Why choose Commercial Heavy 430?
The key benefits of Commercial Heavy 430 are:
Better retention of physical properties, design shape and structural reliability over time.
Optimal UVR block and shade factor throughout the life of the shade cloth, providing a UVR block of up to 94 percent.
Patented intertwining knit pattern results in more efficient fabrication and less maintenance once installed.
Engineered in Australia and produced in GALE Pacific's Ningbo manufacturing plant.
Full 15-year warranty.
More even distribution of pre-stress loads in warp and weft directions.
GALE's commitment to green fabrics.
Gale Pacific's architectural fabrics are the first architectural shade cloth products in the world to be granted Oeko-Tex Standard 100 and Greenguard certifications, and are knitted from recyclable material. This makes our fabric good for the environment and one of the most advanced architectural shade fabrics on the market.
Additionally, Commercial Heavy 430 is made from premium grade high-density polyethylene monofilament, and is lead and phthalate free.
To learn more about this project or about Commerical Heavy 430, feel free to get in touch with the GALE Commercial team for more information.