What sets GALE's knitted fabrics apart?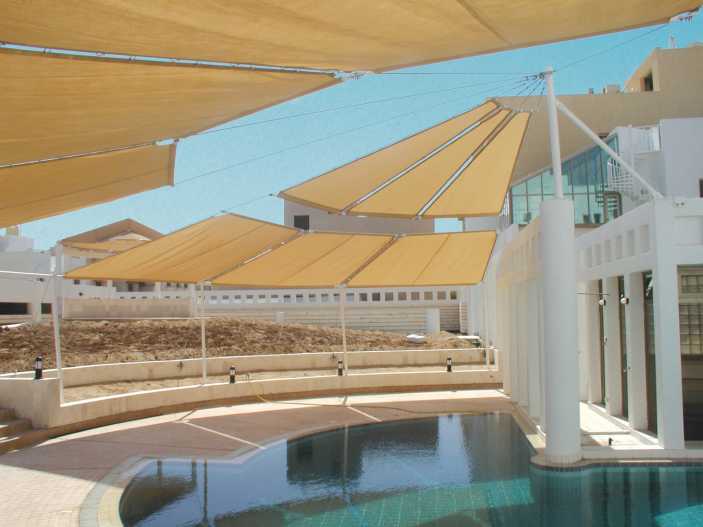 The manufacturing process at GALE Pacific is an end to end solution – it's how we ensure our products continue to set the benchmark for knitted HDPE fabrics.
High density polyethylene (HDPE) knitted fabrics are used for a variety of commercial applications. They are commonly used in architectural shade applications, such as public parks, playgrounds, residential areas and sporting venues. However, knitted HDPE fabrics are also used in both the agricultural and horticultural industries – and any other space that requires protection from the elements. When determining what makes a good shade fabric, it largely is dependent on the application itself. However, we will take you through some of the key factors that sets GALE Pacific apart.
The manufacturing process.
GALE Pacific ensures quality from the selection of raw materials through to the knitting and finishing of our fabric. It's an end to end solution that promises a continuous production quality for a consistent level of long term performance and durability.
Sourcing raw materials
The raw materials used to manufacture HDPE filaments are selected and customised to suit specific fabric performance requirements. This 'master batch' of chosen materials allows for additives such as UV stabiliser and heavy metal free pigment, allowing conformance with certifications such as Greenguard and Oeko-Tex, as GALE fabrics are 100% lead and phthalate free.
Extruding filaments
Custom extrusion equipment used for fabrication enables GALE Pacific to control the technical specifications of the fabric. By extruding the filament in-house, there is a high level of control over achieving a yarn that meets the exact requirements for the intended fabrics.
Attributes formed as a result of this controlled process include:
Dispersion of additives and raw material.
High tenacity and strength.
Low shrinkage.
Consistency of filament denier (thickness).
Shape of filament.
Consistency of colours and durability under all weather conditions.
Tape Vs. Monofilament
Choosing either tape or monofilaments when designing fabric has its own specific considerations and benefits.
Monofilament has a high strength to weight ratio, which allows high functionality at a lower product weight. It is also known to have high UV durability and aids with dimensional stability within a knitted fabric.
Tape filament also boast a high strength to weight ratio and UV durability, despite lacking in structural stability. Where it lacks in structural stability, it makes up for in softness – making light work for fabricators and installers while offering additional cover factor.
As the weight and strength of a fabric increases, the percentage of tape used within the fabric should decrease. This is largely due to high weight fabrics being applied to larger span structures, which require greater tension and dimensional stability.
Knitting
Knitting our own fabrics allows a high level of control over the product specifications. Furthermore, knitting in-house allows GALE's R&D team to explore different knit patterns to achieve improved performance, such as the patented 'intertwining knit pattern' utilised in Commercial Heavy 430. This pattern sets a new benchmark for dimensionally stable architectural shade fabric.
Stentered vs. Annealed HDPE knitted fabric
All GALE Pacific knitted architectural shade fabrics are completed with a stentering process. 'Stentering' refers to the standalone operation where the fabric is subjected to heat while being tensioned in both the warp and weft direction. This process limits shrinkage of the fabric and removes curling characteristics often seen on the edges of non-stentered fabrics.
Annealed knitted fabrics are placed under tension only in the warp direction, this results in unbalanced performance characteristics across the warp and weft. This means that the fabric is more prone to shrinkage, and is less likely to have 'lay flat' properties.
A stentered fabric provides a more stable and predictable form which greatly assists in the fabrication and installation of the fabric structures and finished shade sails.
Product performance.
GALE products are independently tested with results published and available for download on the GALE Pacific Commercial website. These resources outline the technical specifications of the product, and consider a variety of performance indicators.
Biaxial stretch reports
GALE solicit independent biaxial stretch reports for each of their knitted fabrics used for architectural applications. The information contained in the reports evaluate the fabrics performance in terms of strength and stretch. This biaxial test, subjects the fabric to loadings in the warp and weft direction simultaneously. This information enables engineers and fabricators to accurately design and fabricate for optimal form in the intended structure.
Third party certification
In GALE Pacific's pursuit for sustainable fabrics, we have achieved compliance with both Greenguard and Oeko-Tex certifications across our architectural shade fabrics range.
GREENGUARD Certification helps buyers identify products and materials that have low chemical emissions. This brings attention to health considerations during the fabrication process and works towards improving the quality of the air in product applications.
Oeko-Tex refers to the chemical composition of a product. This accreditation tests products for the presence of certain toxic chemicals.
Combined Greenguard and Oeko-Tex certifications set stringent limits for products to achieve in several key areas such as:
Limiting Volatile Organic Compound (VOC) content.
Lowering formaldehyde emissions.
Lowering lead and phthalate content.
Warranties
GALE Pacific offers a full warranty on all knitted fabrics, which means that GALE will replace the fabric or refund the cost of replacement for the full warranty period. This differs from many manufacturers who only offer a pro-rata warranty which deteriorates over the period of the warranty – from a full replacement warranty at the initial purchase, to a partial warranty towards the end of the warranty period.
Best practice.
When considering a shade fabric installation, the cost of the fabric is a small component of the overall cost. However, it can be a costly repair should the fabric fail. Therefore, the use of a superior fabric can avoid costly repairs in the long term. If a fabric sags and flaps, it can damage the steelwork and affect the entire structure.
Regular maintenance of a quality fabric, and ensuring the installation area remains suitable (i.e. no obstructive trees) can help extend the life of your fabric. The quality of the fabric is integral to the overall installation – so ensure you choose a product that performs under tension for the long haul.
If you're interested in more information on the GALE Pacific knitted fabric manufacturing process take a look at our website, or get in touch to learn more.