Case Study DualShade® 350 at Whitfords Nodes Park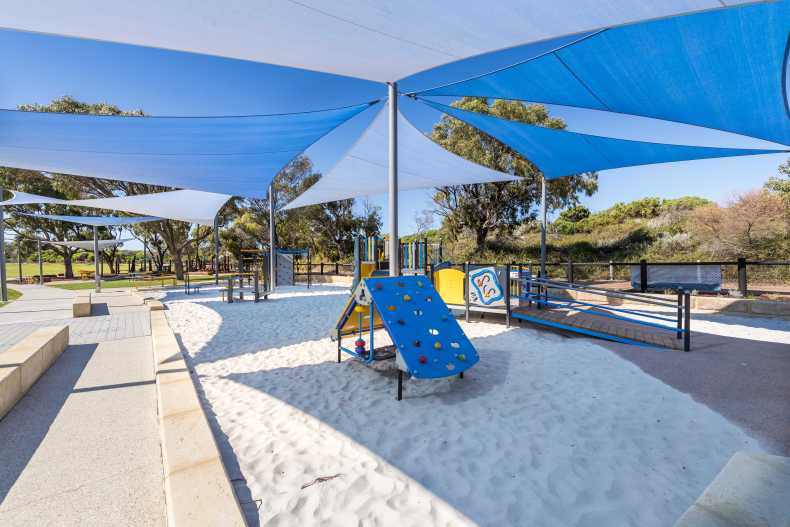 Complimenting the "beach ball" aesthetic of the Whitfords Nodes Park project in Hillarys, Western Australia, DualShade® 350 offered the perfect solution.
The Project:
Size: 200 SQM (9 sails)
Colour: Santorini
Landscape Architect: Peter Pyrchla, City of Joondalup
https://www.joondalup.wa.gov.au/
Sail Fabrication: West Coast Shade.
https://www.westcoastshade.com.au/
Case study brochure
Download here
Forming part of the greater development plan for the health and wellbeing hub at Whitfords Nodes in Western Australia, the Hillarys Beach Park has undergone a transformation. The redesign substitutes several older play zones previously found around the area which were outdated and offered little relief from the sun. As a result, the new park has been carefully designed with both functionality and aesthetic in mind.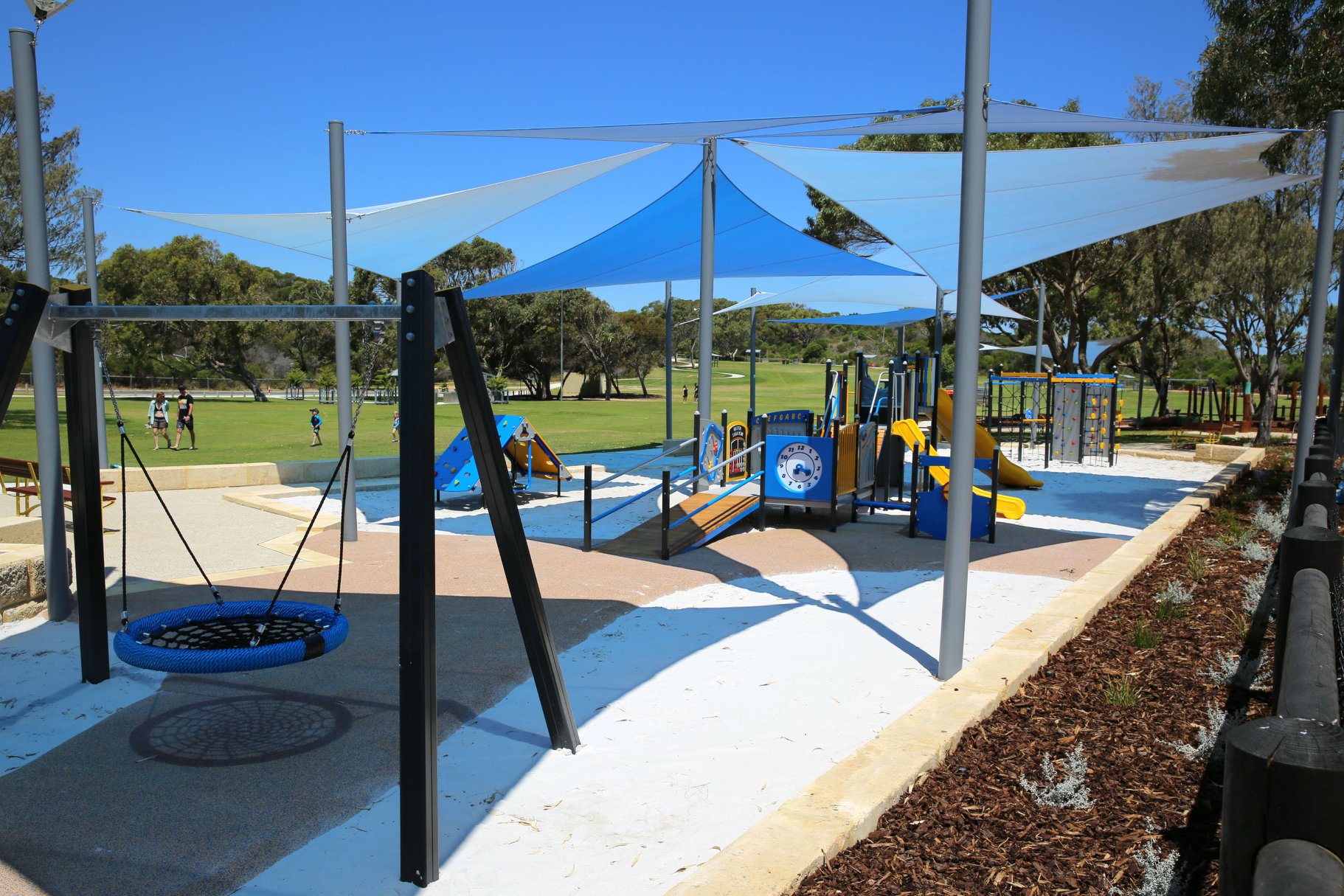 Visually, the park boasts a clean and modern look that blends in naturally to the coastal landscape. The City of Joondalup's Landscape Architect on the project explains that some of the key features including play equipment and shade sails have been chosen specifically to reflect the bright summer tones of a "beach ball".
DualShade® 350 is manufactured using a patent pending knit pattern that features a single colour on one side and complementary colour on the other. Because of this, the material has been described to change colour in a 'pearlescent' manner as you walk around the structure. This was achieved using a 1 to 5 slope during construction by West Coast Shade. West Coast Shade comments that while flipping each roll of material over during the fabrication process to suit the alternating blue and white design was a challenge, the visual achievement was well worth it.
"DualShade was really good to work with, it handled just like Commercial 95" –West Coast Shade.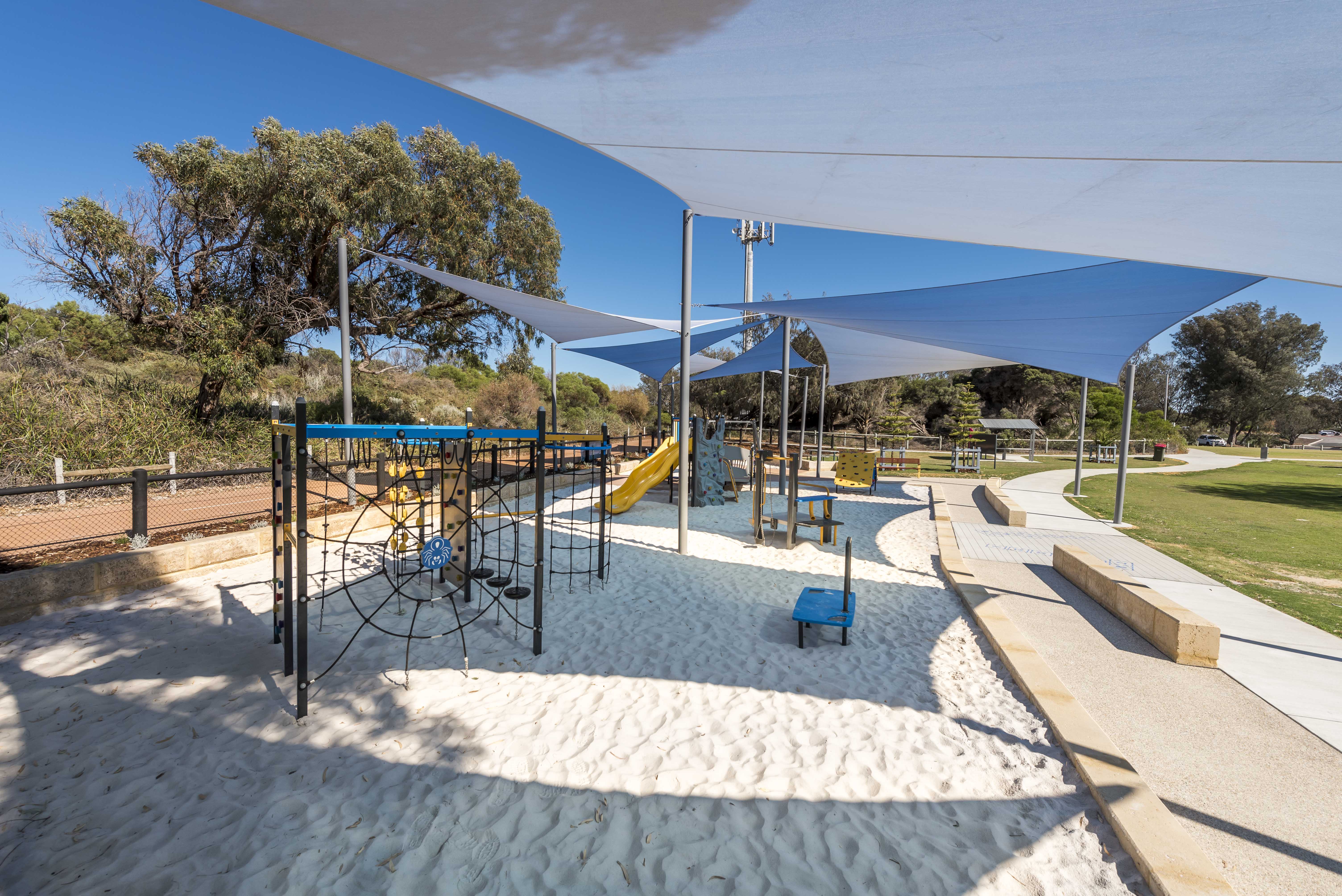 In conjunction with the park's aesthetic, the shade material had to meet specification requirements for performance in line with stringent protection standards, exposure to high winds and harsh coastal conditions. Combined with a UV block rating of up to 93.6% DualShade® 350 achieves maximum durability using high quality, UV-stabilized yarn manufactured with a patented intertwining knit pattern. These characteristics make DualShade® 350 a more dimensionally stable fabric and achieve superior long-term performance through an even distribution of force while tensioned. This benefit helps to reduce the frequency of having to re-tension the structure, lowering maintenance costs and resulting in longer fabric life.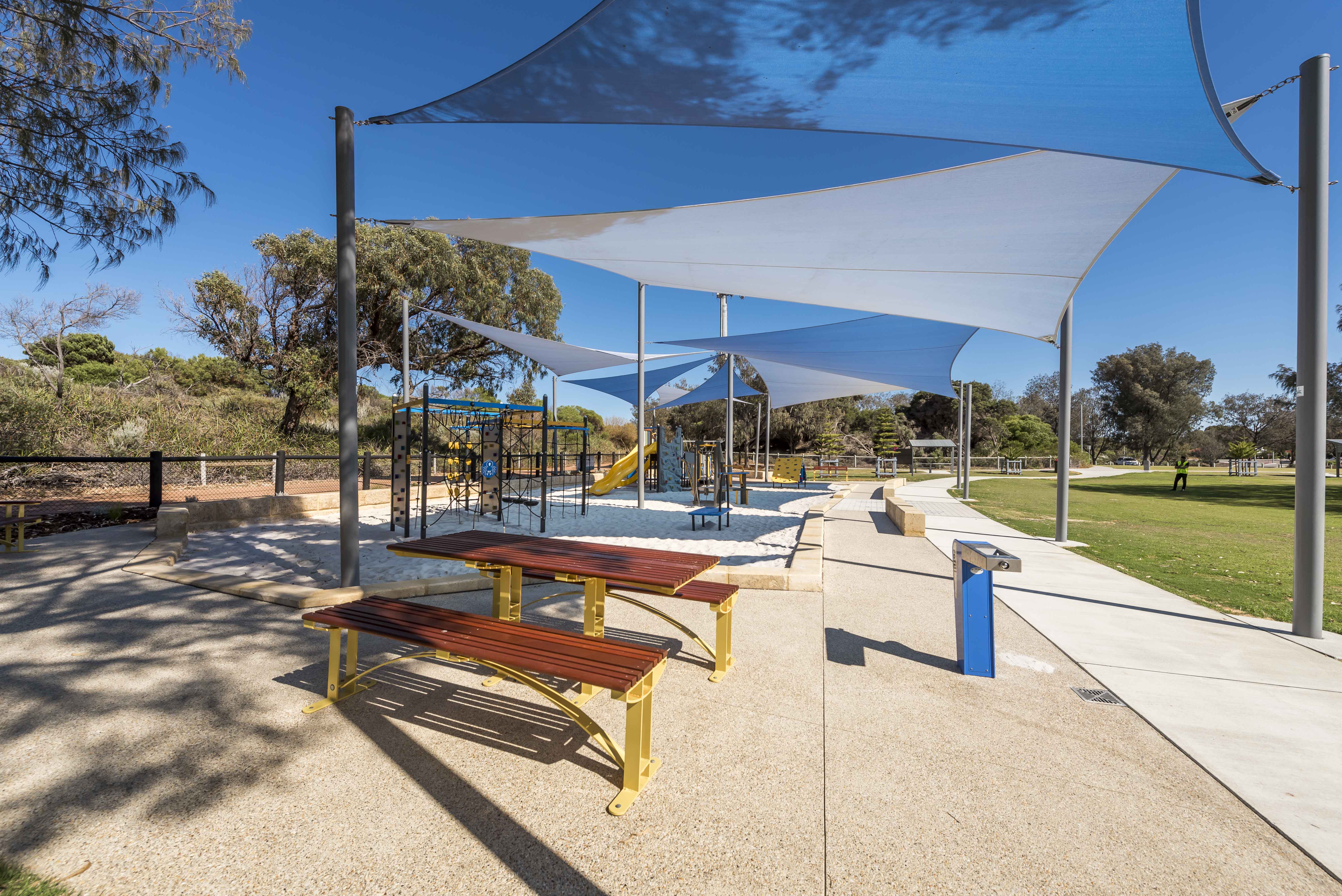 Overall, the pearlescent effect of DualShade® 350 provided the City of Joondalup Council with an innovative and refreshing way to enhance the Whitford Nodes Beach Park Project.
Photos provided by: City of Joondalup & West Coast Shade.
Additional reviews and photos related to the Whitford Nodes Beach Park Project here:
https://www.buggybuddys.com.au/things-to-do/playgrounds-and-parks-in-perth/hillarys-beach-park-whitfords-nodes/